Lately, my local grocery store has kicked up the gluten-free offerings…or rather, food producers are expanding their gluten-free product lines. However you want to look at it, this is good news. Particularly if you're in the market for decent tasting ready-to-eat meals.
The Evol product line caught my eye because of the catchy name and clear packaging. The gluten-free label was clear, and for the first time in a good couple of decades, I picked up a couple of frozen chicken burritos to see how they'd taste. Evol also makes about 18 other gluten-free products (list here), ranging from tacos to chicken tikka masala to mac and cheese.
I decided to try the two chicken burritos. One is your basic gluten-free chicken. The other was gluten-free chicken with a side of guacamole. While the instructions suggest you should thaw the burritos in advance — great if you pop one in your lunch bag for later — I hadn't planned that far ahead, so it took about three minutes cooking time in my microwave instead of the two noted on the package.
While the burritos cooked, wrapped in a damp paper towel (to keep the tortillas from drying out), I popped the frozen guacamole packet into some hot water to thaw. I also pulled out some chile sauce from our local taco joint.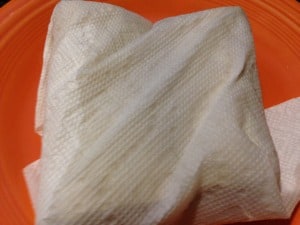 I loved the chicken burrito with the side of guacamole (green packaging). It had a cilantro lime flavor, black beans, rice, and corn. For a frozen burrito, it had a lot of flavor. I'll definitely buy this one again.
The other chicken burrito (blue packaging) didn't have as much flavor for me. It was good if a bit bland, but won't be my first choice the next time I'm at the grocery store. Both burritos cooked well, and, thanks to the damp paper towel, the tortilla wraps were chewy but not tough.
Overall, I'm pretty impressed with these burritos — and am eager to try other products in the gluten-free line…especially the lemongrass chicken.
Have you tried the Evol products? What do you think?
Tip of the Week
Like all gluten-free breads, gluten-free tortillas dry out very quickly. If you purchase a package, either use it quickly, or keep it frozen — refrigerators dry them out. The paper towel trick I used on the Evol burritos will help refresh dry tortillas to a degree.
Menu of the Week
After writing the above, I made a trip to the grocery store where I picked up another burrito and the chicken lemongrass (I love the flavor of lemongrass!). I also priced gluten-free tortillas — the ones that mimic flour tortillas, I mean. At $6.99 for eight tortillas, I suggest you stick with traditional corn tortillas unless you really need a burrito or wrap.
One overlooked aspect of corn tortillas is how delicious they are as quesadillas. They are also ridiculously easy to make — perfect for snacks or one of those evenings when you just want to eat, not think.