While I will admit to a fondness for baked beans, I've always shied away from the canned version because I am not a fan of sweet foods. Sure, I'll indulge if I encounter the canned version, but I won't buy them unless I have a serious craving.
Yeah, I crave baked beans.
If the craving is minor and time is plentiful — or I know I need a killer dish to bring to a barbecue — I go straight for my crockpot and let the beans cook overnight. The slow cooker does all the work of cooking the beans through while developing a rich sauce that is just sweet enough with some tangy and spicy flavors to balance that sweetness. Best of all: no soaking required! I just toss everything into the crockpot, and let it work while I catch up on TV and much-needed sleep.
Gluten-Free Crockpot Baked Beans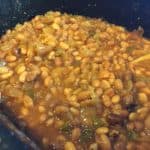 By Kassia Krozser Published: July 4, 2016
Yield:

10 Servings

Prep:

20 mins

Cook:

14 mins

Ready In:

34 mins
Let your slow cooker do the work while you sleep! These gluten-free beans are perfect for cookouts or any time you want great beans.
Ingredients
Instructions
Working in layers, add the bacon, onions, garlic, jalapeno, and beans to your crockpot.

Mix the brown sugar, molasses, tomato paste, cider vinegar, mustard, salt and pepper, and 1 cup water together. Pour over bean mixture to cover. Add additional water to cover the beans by at least one inch.

Cook on low for twelve to fourteen hours. The beans should be soft but not falling apart, and the liquid should be syrupy and flavorful. Taste and adjust seasonings as needed. See notes: the beans may require more cooking time, depending on your slow cooker.

WordPress Recipe Plugin by ReciPress