I use Asian ingredients a lot in my gluten-free cooking. Many are inherently gluten-free, making meals so much easier. Sure, my local grocery store has an Asian foods section, but it is largely geared toward the basics like soy sauce (sometimes they stock GF tamari, sometimes they don't), other sauces, and various noodles and pre-packaged meals (including — thank you! — some great gluten-free meals from Taste of Thai).
But I like to keep my pantry well-stocked with other ingredients I use on a regular basis, so I make regular trips to one of the local grocery stores that caters to the large Asian population in my neighborhood. One store, 99 Ranch Market, is a mix of familiar products and interesting items such as whole Durian fruits. Another is geared more toward Chinese foods, with what seems to be an entire aisle devoted just to soy sauce.
Yes, you have to be very diligent about label-reading. I am still hunting for fresh rice flour noodles that don't have wheat flour. While items must be labeled in accordance with U.S. Laws, you do need to be aware that other nations have different regulatory standards (some may be tighter, some may be laxer).
Below you can see the results of what I thought was a quick trip to buy chile paste. I went to buy this.
And maybe this.
Was hoping to find a large bag of rice flour. Ended up buying six one-pound bags. Pretty good deal, if a bit less convenient than a single bag. We use rice flour constantly in savory pancakes.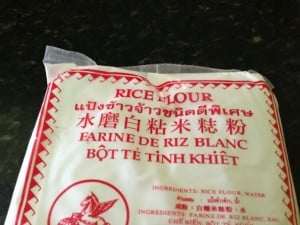 Tapioca starch. Because, well, why not?
I love making sandwich roll-ups with rice paper wrappers, so I stocked up on the large size. They are perfect for lunches. I couldn't resist these triangle-shaped rice paper wrappers. Going to try to make some sort of dumpling/dim sum with these.
I am excited about finding millet. Have been Googling recipes all afternoon.
Oh, and after trying many stores, I finally found gluten-free Korean rice cakes (dduk). So many brands carried by local stores have wheat flour mixed in. I'm eager to create a spicy dish with these chewy, flavor-absorbing babies.
Grabbed some black sesame seeds. They'll be beautiful on crispy rice with spicy tuna or salmon. I also picked up some tofu. Because, well, it freezes well so I can have it on hand for quick stir fries or other meals.
The only thing I resisted purchasing — and I know I'm going to regret this — was the plus-sized bottle of fish sauce. I told myself I had a fresh new bottle at in the refrigerator. Since I use fish sauce a lot, I suspect I'll be going back. I didn't buy any dried rice noodles because I have plenty on hand. I went a bit wild the last time I shopped.
I couldn't find any GF soy sauce, but I admit I didn't look too hard since I have a good supply (and it's easy enough to purchase locally).